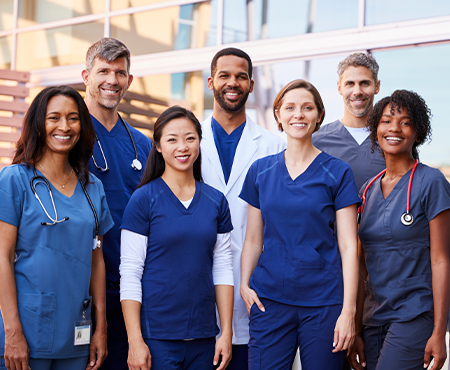 What is a Locum Tenens CRNA?
Locum tenens is a Latin term translating to "to hold the place of." Locum tenens play an indispensable role in mitigating healthcare staffing shortages on a national scale. As a Certified Registered Nurse Anesthetist (CRNA) specializing in locum tenens, you assume a pivotal responsibility in bridging staffing gaps at hospitals, clinics, private practices, and diverse healthcare establishments.
It is estimated that we will need around 30,200 new APRNs annually through 2031 that are prepared in master's and doctoral programs. In addition, employment for CRNAs is expected to rise by 11.8%, creating about 5,300 new job opportunities in the field between 2021 and 2031. This demand will be propelled by a convergence of factors, notably an escalated focus on preventive care and heightened demand for surgical procedures from an aging population. Locum tenens play a critical role in effectively alleviating these growing staffing shortages.
By utilizing locum tenens CRNAs, healthcare facilities can ensure that there is adequate staffing to meet the surgical needs of the aging population and prevent any disruptions in the delivery of care. This not only improves patient outcomes but also helps to alleviate the strain on the existing workforce of CRNAs. As a locum tenens CRNA, you help bridge the gap and help maintain a smooth workflow within the healthcare system!
Why Work as a Locum Tenens CRNA?
As a locum CRNA, you experience the advantage of work-life balance through the flexibility to choose your schedule, hours, and the duration of your assignments. A career as a locum tenens CRNA offers the opportunity to balance your professional responsibilities with your personal life, mitigating the likelihood of burnout while allowing you enhanced control over your career trajectory.
The locum tenens CRNA lifestyle releases you from administrative burdens and allows for increased control over your workload, leaving time for other hobbies or interests. Whether you're passionate about research, travel, or simply spending time enjoying the activities you love, locum CRNA opportunities provide the flexibility and autonomy to pursue those passions outside of work.
As a CRNA locum tenens, you have the option to travel 10 or 3,000 miles, exploring diverse healthcare settings in vibrant cities or quaint rural areas. If you love traveling and making a difference in communities experiencing anesthesia staffing shortages, working CRNA locum tenens is a fantastic way to blend the two. As a bonus, Medicus handles all the logistics, allowing you to focus on caring for patients and enjoying your new location.
If you prefer to strike a balance between your career and personal commitments, locum CRNA jobs are also available close to home, allowing you to maintain a work-life balance and serve your local community while staying close to family and friends.
Whether you are drawn to the allure of far-off places or the familiarity of your own neighborhood, CRNA locum tenens offers a range of opportunities tailored to suit your lifestyle and professional goals while continuing to make a difference in communities in need of anesthesia services.
If you're a CRNA who prefers to practice independently, CRNA locums positions offer you the flexibility to customize your assignments to align with your career aspirations.
As an independent practicing locum CRNA, you will have the opportunity to work in areas where your specific skills and expertise are in the highest demand. Independent locum CRNA jobs offer the opportunity to sharpen your critical thinking abilities and clinical proficiencies, as you'll be responsible for the entire spectrum of anesthesia care, ranging from evaluating patients to overseeing their recovery after surgery. Practicing independently can provide a deep sense of both professional and personal fulfillment, all while allowing you to retain full control over your own career path.
Locum CRNA jobs provide the opportunity for CRNAs to enhance their income while making a difference in communities with an increased need for anesthesia services. CRNA locum jobs tend to have the ability to secure higher hourly wages compared to working permanent CRNA jobs. The increase in pay is primarily driven by the heightened demand for anesthesia services in certain areas, driving up compensation levels.
By working as a locum tenens CRNA, you not only tap into lucrative earning potential but also play a crucial role in bridging gaps in the demand for anesthesia services. By stepping in to provide much-needed support, you contribute to improving the continuity of patient care in communities in need. Locum tenens CRNA is a fulfilling way to make a positive impact while enjoying the financial benefits of CRNA locum jobs.
As a CRNA locum, you can enhance your clinical knowledge and skills beyond what permanent CRNA jobs offer. By working in diverse settings that may not be easily accessible near your home base, you're able to deepen and broaden your skillset while gaining exposure to a variety of patient populations.
Working CRNA locums provides an opportunity for you to collaborate with a diverse group of professionals nationwide. By working alongside clinical experts and building valuable networking connections, you can broaden your horizons and gain insights from different perspectives. Collaborating with other CRNA professionals not only helps expand your clinical knowledge but also fosters a strong and supportive professional network, contributing to your professional growth.
Why Work as a Locum Tenens CRNA with Medicus?
By selecting Medicus as your partner in CRNA locums, you gain the advantage of a dedicated team of industry experts committed to assisting you in navigating the dynamic CRNA job market. Our services go beyond the traditional scope of a locum tenens agency, offering a broader range of opportunities.
In addition to traditional locum tenens assignments, we provide consulting services, interim leadership roles, and program launches. These unique opportunities allow you to leverage your anesthesia skills and experiences to positively impact the organizations you are assigned to.
Whether you work as a locum CRNA full-time or alongside your permanent CRNA job, Medicus gives you the freedom to shape your career according to your preferences. You have the flexibility to decide when, where, and how you want to practice. Together, we help you make a difference in the lives of others while achieving optimal work-life balance and financial comfort.
Here are a Few Reasons Why You Should Work CRNA Locums with Medicus:
Dedicated locum CRNA recruiter invested in your success.

Competitive CRNA rates.

Comprehensive medical malpractice coverage.

Travel Planner to book all locum CRNA arrangements.

Licensing Coordinator to renew and obtain new licenses.

Credentialing Contact to streamline the locum tenens CRNA process and ensure you are ready to begin work.

A personalized portal to track CRNA assignment details from start to finish.

Get paid by submitting timesheets through the Medicus portal.

You are eligible to enroll in the My Medicus Loyalty Program after your first shift.

Personalized health benefits in addition to financial and legal support services.

Travel rewards and perks.
What it's Like to Work as a Locum CRNA with Medicus,
a Message From Our CRNA Locum Tenens:
Effortless Travel and Personalized Care
"With Medicus, everything travel is taken care of for me without asking. They make allowances for special circumstances; for instance, I can fly or drive, and they listen and ensure my needs are met. I also like the Medicus app; it's easy to use. Haillie, my recruiter, is also a superb individual, always eager to help."
- Amanda, CRNA
Responsive and Attentive
"My favorite part about partnering with Medicus is how attentive they are to my concerns. They always respond in a timely manner; you can be assured that your concern is never ignored. "
- Michelo, CRNA
Efficiency and Promptness
"One thing that thoroughly impressed me while working with Medicus was the efficiency of the project and the personnel. They were always very responsive to the provider's request or need. Medicus is a great company to work for, and my recruiter is always responsive and always willing to help! Celine is the best!"
- Bimpe, CRNA
Mark your Calendars
The AANA Annual Congress is the biggest Nurse Anesthesiology education and networking event! Connect and discuss with peers and colleagues on the latest advancements in CRNA education, practice, and research through informative sessions that refresh and expand your clinical skills and knowledge!
Date: August 2-6, 2024
Location: San Diego Convention Center 111 Harbor Dr, San Diego, CA 92101
Registration for the conference will open in early 2024.
We invite you to learn more about the 2024 AANA Annual Congress
here
.
View our current CRNA job openings