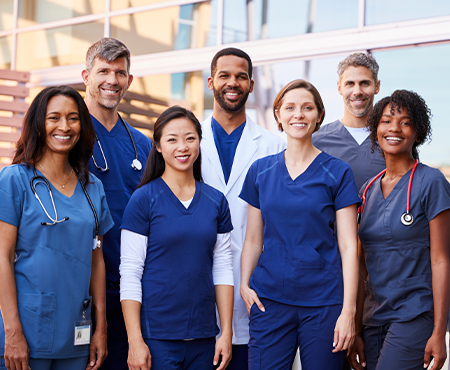 What is Emergency Medicine Locum Tenens?
"Locum tenens" is a Latin phrase that translates directly to "holding the place of". Locum tenens has a significant impact in mitigating healthcare staffing shortages throughout the country. Emergency medicine locum tenens physicians and advanced practitioners step in temporarily to help cover open shifts within emergency departments, urgent care clinics, and other healthcare facilities. Emergency medicine locums play a vital role in maintaining sufficient staffing and resources, guaranteeing top-notch emergency care for patients and communities.
The shortage of emergency medicine physicians and advanced practitioners has been escalating, leading to challenges in delivering timely and high-quality patient care. Recent statistics reveal that 42% of emergency medicine physicians experienced burnout, resulting in workforce attrition. Moreover, the 2023 Match left 555 emergency medicine positions unfilled, intensifying the staffing crisis.
With a projected 3% employment growth until 2032 and a decrease in resident numbers, emergency medicine locum tenens offer a crucial solution to bridge these widening staffing gaps nationwide.
Why Work as a Locum Tenens Emergency Medicine Physician or Advanced Practitioner?
A career as a locum tenens emergency medicine physician or advanced practitioner offers an opportunity to achieve an improved work-life balance, granting you the freedom to choose your schedule, hours, and the duration of each assignment. This flexibility enables you to tailor your professional commitments to align with your personal life, making it easier to avoid burnout and maintain a healthy work-life balance.
Whether you have a passion for traveling, spending time with family and friends, or pursuing hobbies outside of work, locum tenens work allows you the freedom to do so. With the ability to choose when and where you work, you can plan vacations or gatherings without the stress of requesting time off or worrying about finding coverage. This flexibility not only benefits your personal life but also enhances your overall job satisfaction.
Locum tenens emergency medicine jobs present an opportunity for emergency medicine physicians and advanced practitioners to increase their income while simultaneously making a meaningful difference in communities that are in need of emergency services. When working as an emergency medicine locum tenens, you have the ability to secure higher hourly wages compared to those in permanent positions. This is primarily driven by the increasing demand for emergency medicine physicians and advanced practitioners in certain areas, which, in turn, boosts compensation levels.
By working emergency medicine locums jobs, you not only tap into lucrative earning potential but also play a crucial role in bridging the gap in emergency services. By stepping in to provide much-needed support, you contribute to easing overcrowding and reducing wait times, ensuring communities have access to emergency care. It is a fulfilling way to make a positive impact while enjoying the financial benefits of emergency medicine locum jobs.
As a locum tenens emergency medicine physician or advanced practitioner, you have the freedom to travel 10 or 3,000 miles, exploring diverse healthcare settings in bustling cities or quaint rural areas. If you love traveling and making a difference in communities that are facing emergency staffing shortages, working emergency medicine locum tenens is a fantastic way to blend the two! As a bonus, Medicus handles all the travel logistics, so you can focus on taking care of patients and enjoying the adventure.
If you prefer to strike a balance between your career and personal commitments, emergency medicine locum jobs are also available close to home, allowing you to maintain a work-life balance while serving your local community. Whether you're drawn to the allure of far-off places or the familiarity of your own neighborhood, locum emergency medicine jobs offer a range of opportunities tailored to suit your lifestyle and professional goals.
With locums, you have the chance to enhance your clinical knowledge and skills beyond what is typically available in permanent emergency medicine positions. By working in various settings that might not be conveniently located near your home base, you can diversify your skill set and gain exposure to a broader spectrum of patient populations and clinical scenarios.
Emergency medicine locum tenens also enables you to engage with a diverse community of emergency medicine professionals across the nation. This offers the chance to learn from clinical experts and establish valuable networking relationships. Collaborating and working alongside fellow emergency medicine physicians and advanced practitioners, and other clinical staff offers a valuable opportunity to gain fresh insights, thereby enhancing your clinical expertise and broadening your professional support network.
Why Work Locum Tenens Emergency Medicine with Medicus?
By selecting Medicus as your partner in emergency medicine locums, you gain the advantage of a dedicated team of industry experts committed to assisting you in navigating the dynamic emergency medicine job market. Our services go beyond the traditional scope of a locum tenens agency, and we offer a broader range of locum tenens and permanent opportunities.
In addition to traditional locum tenens assignments, we offer exclusive transition projects. When joining a transition project team, you help rebuild emergency departments and work with a dedicated team of anywhere from 3 to over 30 locum tenens physicians and advanced practitioners. These unique opportunities allow you to leverage your skills and experiences to positively impact the communities that are in need of your expertise.
As an added perk, Medicus consistently provides valuable insights and keeps you up-to-date with the latest trends in the field of emergency medicine, ensuring you remain well-informed.
Whether you work locum tenens full-time, or alongside your permanent emergency medicine job, Medicus locum tenens gives you the freedom to shape your career according to your preferences. You have the flexibility to decide when, where, and how you want to practice. Together, we help you make a difference in the lives of others while achieving optimal work-life balance and financial comfort.
Here are a Few Reasons Why you Should Work Locum Tenens Emergency Medicine with Medicus:
Dedicated emergency medicine recruiter invested in your success.

Competitive emergency medicine rates.

Comprehensive medical malpractice coverage.

Travel Planner to book all emergency medicine locum tenens arrangements.

Licensing Coordinator to renew and obtain new licenses.

Credentialing Contact to streamline the locum tenens emergency medicine process and ensure you are ready to begin work.

A personalized portal to track emergency medicine assignment details from start to finish.

Submit timesheets through the Medicus portal to get paid.

Enroll in the My Medicus Loyalty Program after your first shift.

Personalized health benefits in addition to financial and legal support services.

Enjoy travel rewards and perks.
What It's Like to Work Locum Tenens Emergency Medicine with Medicus,
a Message from Our Emergency Medicine Locums:
Effortless Process with Medicus
"The licensing, credentialing, and traveling team are amazing and extremely helpful! They made the locum tenens process so much easier and really took all the stress away from me."
- Kim, Emergency Medicine Nurse Practitioner
Unparalleled Excellence
"By far the best locum company I have ever worked with!"
- Dr. W, Emergency Medicine Physician
Welcoming and Supportive
"Everybody I've spoken with at Medicus has been accommodating, down to earth, friendly, and generous with their time!"
- Dr. D, Emergency Medicine Physician
Transformative Career Choice
"For 7 years, I worked as the Director of APPs. I had been considering switching career paths and doing locum work to earn some additional income. However, my number one concern about leaving my permanent position was not having health insurance. When my recruiter told me about the My Medicus Loyalty Program, I was so excited. The My Medicus Loyalty Program is the main reason that I decided to take the leap into the locum world. I have been working with Medicus now since early 2023, and I couldn't be happier with my new career choice."
- Dale, Emergency Medicine Nurse Practitioner
Save the Date
Join us at ACEP 2024 in Las Vegas, Nevada, the premier global gathering for emergency medicine professionals. Connect, learn, and stay updated on the latest advancements in emergency medicine while networking and engaging with fellow colleagues and professionals!
Date: September 29 - October 2, 2024
Location: Las Vegas, Nevada
Register for ACEP 2024 here.
We invite you to learn more about the
2024 ACEP Scientific Assembly here.
Search our current Emergency Medicine job openings