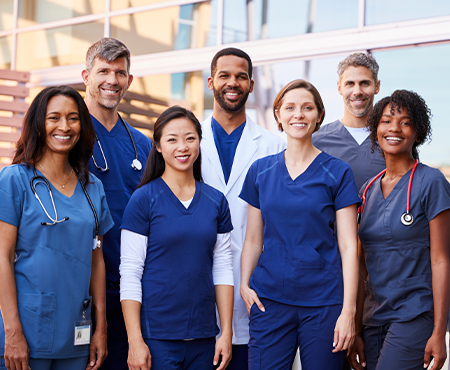 What is Locum Tenens Radiology?
"Locum tenens," a Latin expression signifying "holding the place of," plays a crucial role in combating healthcare staffing shortages nationwide. As a locum radiologist, you provide temporary coverage at hospitals, diagnostic centers, physician offices, clinics, and other healthcare facilities. Radiology locum tenens are essential for ensuring continuous patient care and enabling access to critical diagnostic imaging services.
In the United States, there are currently 29,250 active radiologists, and more than 53% of them are aged 55 and older. Furthermore, the job outlook for the field of radiology anticipates a 4% growth rate from 2021 to 2031. The aging radiology workforce, combined with the escalating need for radiology services driven by the aging population, highlights the significant need for locum tenens radiologists. The role of locum tenens radiologists becomes increasingly pivotal in mitigating staffing shortfalls and ensuring high-quality radiology services.
Radiology faces a significant issue of burnout among permanent providers, with 36% of radiologists experiencing burnout due to extended work hours and administrative tasks. On average, physicians dedicate approximately 1.84 hours per day to EHR documentation beyond their regular work hours. This accumulates to 9.2 hours per week. Choosing a career as a locum radiologist can be a transformative decision, enabling radiologists to reignite their passion and focus on the essence of their profession – delivering accurate diagnoses and effective treatment planning.
Why Work Locum Tenens Radiology Jobs?
In recent years, teleradiology has emerged as a valuable solution for radiologists seeking to maintain a healthier work-life balance and reduce the risk of burnout while still delivering high-quality radiology services. As a locum radiologist, you can choose to take assignments that enable you to work from home via teleradiology locums.
Teleradiology locums offer a significant advantage in terms of flexibility. You can customize your work environment and work from home, creating a personalized and comfortable workspace. Another popular feature is the elimination of daily commutes. Teleradiology locums allow you to help patients in different locations, all while maintaining a healthy work-life balance. Teleradiology locums provide the flexibility, control, and support needed to maintain a healthy work-life balance and ensure your well-being while continuing to provide crucial radiology services to patients.
As a locum radiologist, you have the opportunity to elevate your clinical expertise and skillset. As a locum tenens radiologist, you can choose to work in a variety of clinical settings, gain exposure to different equipment and technology, and handle complex cases that you may not encounter in a regular, specialized role.
Locum tenens radiology provides a unique opportunity to collaborate with a diverse group of professionals across the nation. By working alongside clinical experts and building valuable networking connections, you can broaden your horizons and gain insights from different perspectives. Collaborating with other radiology professionals not only helps to expand your clinical knowledge but also fosters a strong and supportive professional network, contributing to your professional growth.
Locum tenens radiology empowers you to discover the practice setting that best aligns with your career goals and personal preferences. Whether you thrive in a fast-paced hospital or prefer to work at an independent imaging center, locum tenens radiology offers you the chance to explore various environments and find your perfect fit. Interacting with different medical professionals through locum work expands your professional network, encourages continuous learning, and can lead to greater financial stability.
The versatility of locum tenens radiology jobs extends to your geographical preferences as well. Whether you venture a mere 10 miles or journey 3,000 miles, you can immerse yourself in diverse healthcare landscapes, from vibrant urban centers to serene rural areas. If you have a passion for traveling and making a difference in communities experiencing radiology shortages, working locum tenens is a fantastic way to blend the two. Whether you're drawn to the excitement of exploring new places or prefer the comfort of your local neighborhood, locum tenens radiology empowers you to craft a meaningful career path while effecting tangible change in underserved radiology communities.
Working as a locum radiologist offers both lucrative earning potential and a chance to address healthcare gaps nationwide. Locum radiologists enjoy higher hourly wages compared to their permanent counterparts due to increased demand for radiology services in specific regions, driving compensation upwards.
Locum radiologists are invaluable assets within the healthcare sector, elevating access to vital radiology imaging services. By stepping in to fill critical staffing gaps, locum radiologists help ensure the prompt and precise diagnosis of patients. This is especially important in regions with staffing deficits or restricted radiology resources. As a locum tenens radiologist, you will play a critical role in supporting the operations of healthcare facilities and ensuring communities have access to top-tier radiology services.
Why Work as a Locum Radiologist with Medicus?
By selecting Medicus as your partner in radiology jobs, you gain the advantage of a dedicated team of industry experts committed to assisting you in navigating the dynamic radiology job market. Our services go beyond the traditional scope of a locum tenens agency, offering a broader range of opportunities.
In addition to our standard radiology locum tenens assignments, Medicus extends a unique opportunity to physicians and advanced practitioners called Transition Projects. These projects often involve assembling a dedicated team ranging from 3 to more than 35 full-time locum professionals, all contributing to a common mission. When you become a part of a transition team at Medicus, you assume a pivotal role in orchestrating substantial project launches. These exclusive locum opportunities empower you to harness your radiology skills and rich experiences, channeling them towards a meaningful and transformative impact on communities in dire need of your expertise.
Whether you work as a locum radiologist full-time or alongside your permanent radiology job, Medicus gives you the freedom to shape your career according to your preferences. You have the flexibility to decide when, where, and how you want to practice. Together, we help you make a difference in the lives of others while achieving optimal work-life balance and financial comfort.
Here are a Few Reasons Why You Should Work as a Locum Radiologist with Medicus:
Dedicated radiology locums recruiter invested in your success.

Competitive radiology rates.

Comprehensive medical malpractice coverage.

Travel Planner to book all locum tenens radiology arrangements.

Licensing Coordinator to renew and obtain new licenses.

Credentialing Contact to streamline the locum tenens radiology process and ensure you are ready to begin work.

A personalized portal to track Radiology assignment details from start to finish.

Get paid by submitting timesheets through the Medicus portal.

You are eligible to enroll in the My Medicus Loyalty Program after your first shift.

Personalized health benefits in addition to financial and legal support services.

Travel rewards and perks.
What It's Like to Work as a Locum Radiologist with Medicus,
a Message from Our Locum Radiologists:
Proactive Support and Stress-Free Assignments
"I had a great experience with Medicus, I had a supportive and helpful team with little to no issues. They stayed on top of things and were ahead of the game with paperwork and credentialing, so I wasn't stressed leading up to my assignment. They even took care of my travel and lodging accommodations, and it worked out perfectly."
- Dr. S, Radiologist
Finding the Right Opportunities and Building a Trusted Connection
"My recruiter always has my back and is always looking for opportunities that best fit what I am looking for. Over the years, he's not only become my favorite recruiter but he's also become like family!"
- Dr. Z, Radiologist
Exceptional Professionalism and Ease
"Anytime I work with Medicus, my point of contact is highly professional, knowledgeable, and friendly. They make the process easy and enjoyable!"
- Dr. F, Radiologist
Mark your Calendars
The RSNA 2024 Annual Meeting provides radiology professionals and industry partners the opportunity to experience the power of imaging, education, and collaboration come to life. Explore today's biggest radiology topics in person in Chicago, IL!
Date: December 1-5, 2024
Location: McCormick Place 2301 S. Lake Shore Dr. Chicago, IL 60616
Click here to sign up for the latest updates regarding the 2024 RSNA Annual Meeting
Visit Medicus in recruiters row at booth #1129
Search our current Radiology job openings