Celebrating PA Week
October 10, 2022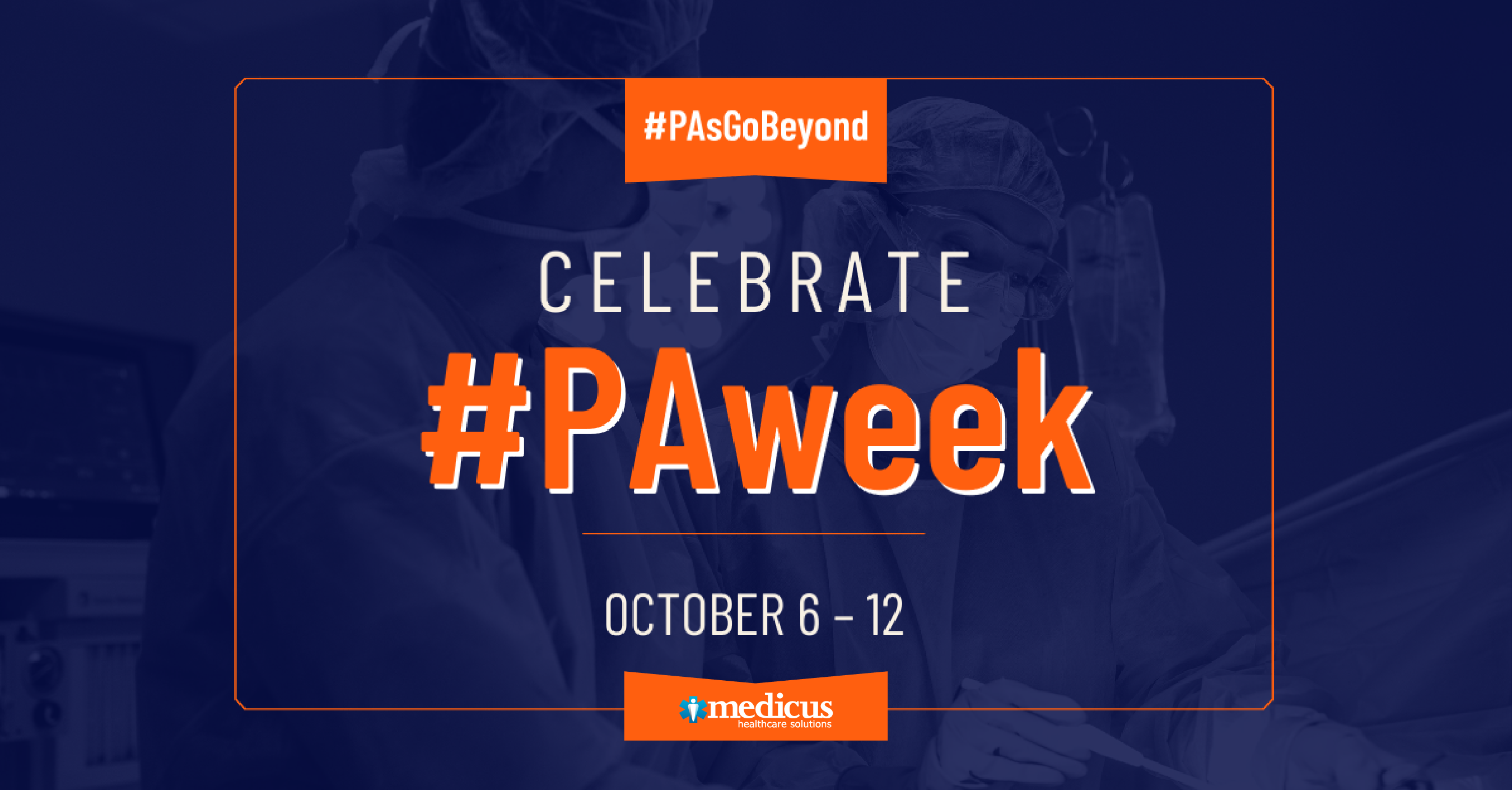 In honor of National Physician Assistant (PA) Week — celebrated every year from October 6 to 12 — Medicus Healthcare Solutions recognizes the over 159,000+ clinically practicing PAs!
PAs are one of the fastest-growing healthcare provider professionals!
Did you know?
To obtain a license, a PA must graduate from one of the 293 PA programs in the United States.
To maintain certification, PAs must complete 100 hours of continuing medical education every two years.
PAs practice in every work setting, from hospitals and urgent care centers to outpatient offices and clinics, often serving as a patient's primary care provider. They practice medicine in all medical and surgical specialties, including family medicine, internal medicine, emergency medicine, pediatrics, gerontology, and more.
PAs have more than 514 million patient interactions every year.
PAs expand access to quality care for communities nationwide. Here are a few ways you can help celebrate PAs this week!
Spread the word. Use #PAWeek on social media to find tagged posts from others about how they are celebrating PA Week. Remember to share news, capture your celebrations, and use "#PAWeek" and share how PAs go the extra mile for their patients by using "PAsGoBeyond"!
Recognize the PAs in your life. Wish them a Happy PA Week and thank them for their dedication to patient care! Consider commemorating this special week by sending them a PA coffee mug, flowers, a heartfelt card, or gift a membership to the American Academy of Physician Assistants (AAPA)!
Hold a PA Week Luncheon. Invite physicians, nurses, allied health professionals, and other staff to participate by chipping in or contributing a homemade item, side dish, snack, or refreshments. Alternatively, you could host a breakfast, potluck dinner, or post-work get-together.
Medicus Healthcare Solutions is privileged to partner with incredible locum tenens PAs! We thank you for your dedication and commitment to always putting patients first and using your medical expertise to improve health outcomes.