Medicus is Celebrating Telehealth Awareness Week!
September 17, 2023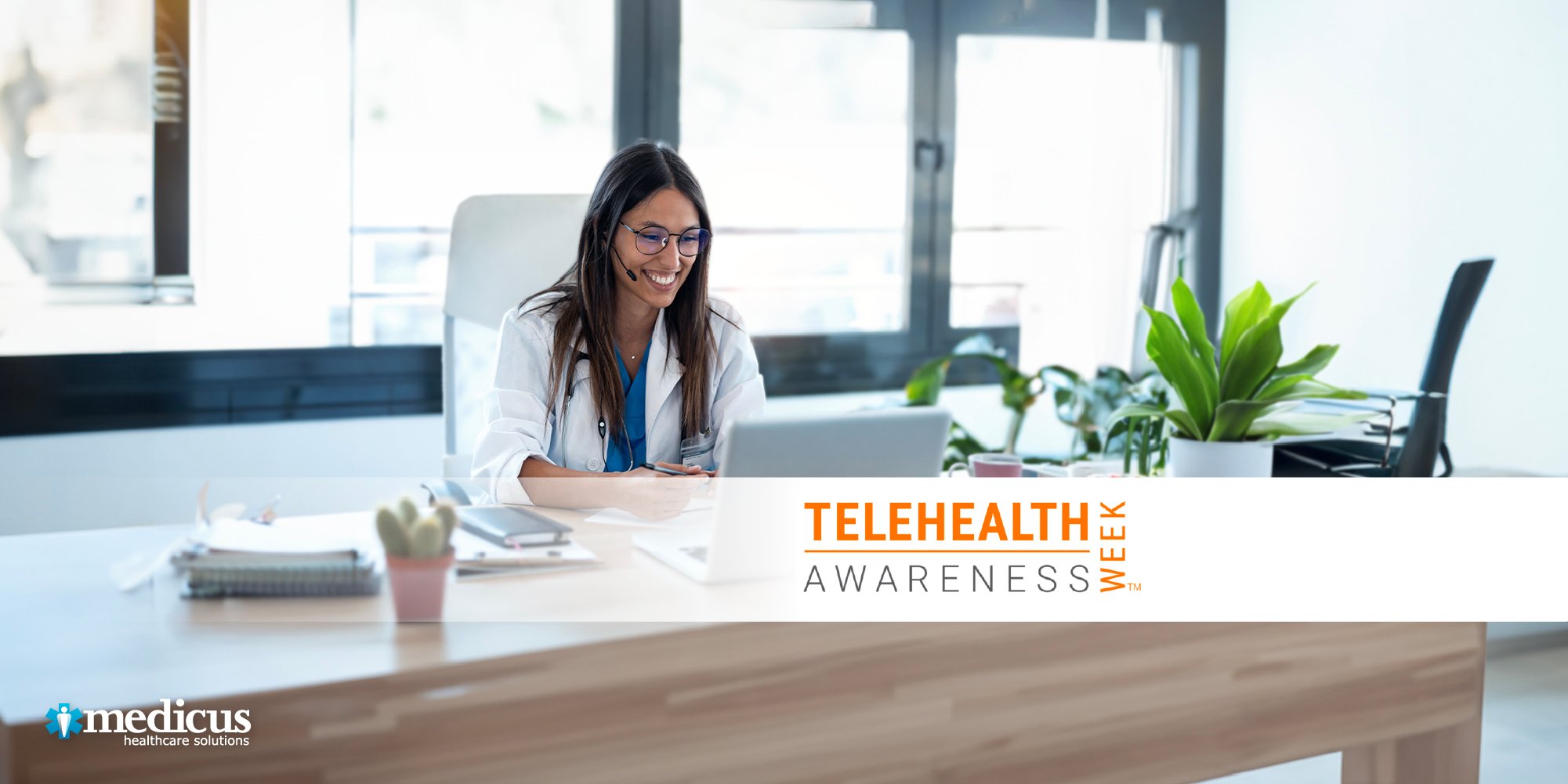 Medicus is excited to join in celebrating Telehealth Awareness Week from September 17-23, 2023! Organized by The American Telemedicine Association, this annual event aims to raise awareness about the benefits of telemedicine. Explore a wealth of educational resources and engage in discussions highlighting how telehealth enhances access to quality healthcare services nationwide!
The Rise of Telehealth
Telehealth gained significant traction during the COVID-19 pandemic. Since then, it has continued to be a vital resource for hospitals and other healthcare facilities in providing access to care. This growth has provided numerous benefits for healthcare facilities and communities nationwide.
Its upward trend of success is because of the key advantages it offers patients, physicians, advanced practitioners, and healthcare facilities.
Key Advantages of Telehealth
Improved Access to Care:

According to the American Medical Association, more than 80% of physicians believe telehealth gives their patients better access to care. It ensures patients in remote or underserved areas have access to healthcare services, including healthcare specialties that may not be available within their area.

Continuity of Care

: Telehealth allows for consistent monitoring and follow-up, ensuring patients receive ongoing care management.
Flexibility: Gone are the days of waiting for hours in crowded waiting rooms. Patients can schedule appointments at their convenience and receive medical advice from the comfort of their own homes.

Cost-Effective:

By eliminating the need for unnecessary hospital visits and reducing readmission rates, telemedicine helps in reducing healthcare costs. It also minimizes the financial burden on patients by eliminating travel expenses and reducing the need for childcare or time off work.

Telehealth Locum Tenens:

Locum tenens physicians and advanced practitioners provide top-tier care through telehealth, seamlessly filling staffing gaps that may be caused by high patient volumes, turnover, or other operational challenges, ensuring uninterrupted patient care.
Telehealth Locum Tenens
The American Medical Association predicts a shortage of up to 124,000 physicians by 2034. Addressing these ongoing shortages requires innovative solutions for healthcare facilities to bridge gaps in coverage and maintain continuity of care. Telehealth and locum tenens are two vital components of modern healthcare delivery, each playing a major role in ensuring patients receive the care they need.
The fusion of telehealth and locum tenens proves immensely advantageous.
It leverages technology to bridge the gap between locum tenens and patients, ensuring that care is delivered promptly and effectively. Telehealth locum tenens physicians and advanced practitioners can offer services remotely, further expanding access to care. This combination allows healthcare facilities to tap into a pool of experienced physicians and advanced practitioners, regardless of their physical location, when experiencing high patient volumes, turnover, or other staffing challenges.
Telehealth locum tenens offers a versatile and effective approach to healthcare delivery.
The benefits include expanded access to specialized care, cost-efficiency, improved patient engagement, and more. This integration is increasingly recognized as a valuable strategy in addressing healthcare access and staffing challenges. Patients are now able to access care through virtual consultations when in-person staffing is not feasible for local healthcare facilities.
As the demand for healthcare services continues to grow, locum tenens and telehealth can ensure medical care is accessible to patients regardless of location. Together, we can ensure that quality healthcare is accessible to all, regardless of geographical limitations. We invite you to learn more about Telehealth Awareness Week by visiting the American Telemedicine Association's website here.
Interested in a career in locum tenens? Fill out the short form below to connect with a Medicus recruiter today!