Medicus Pays Tribute: Veterans Day 2023 and the Commitment to Exceptional Healthcare
November 11, 2023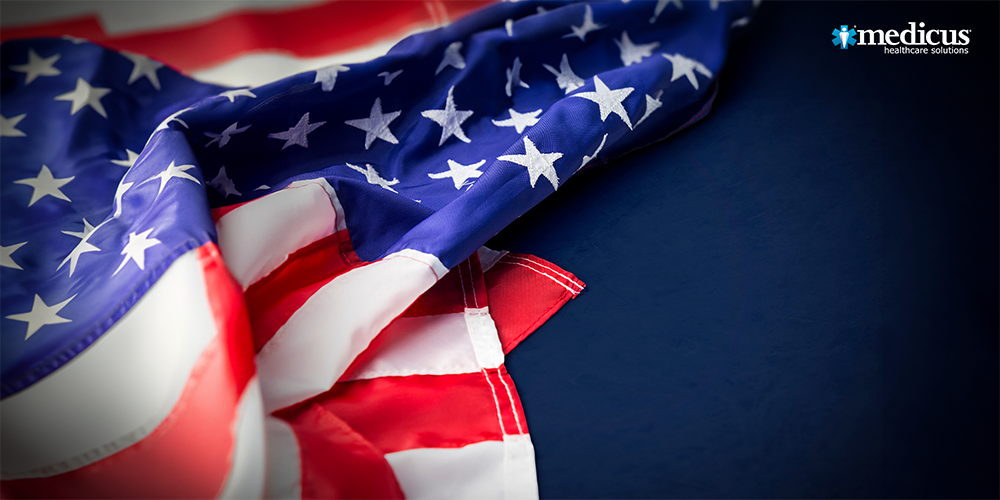 Medicus proudly stands in honor of the courageous individuals who have served our nation this Veterans Day. On this annual occasion, marked on November 11th, we take a moment to honor the unwavering commitment and bravery of those who have safeguarded our freedoms and values.
This Veterans Day, Medicus also extends a heartfelt gratitude to the dedicated physicians and advanced practitioners who have played a vital role in the well-being of our veterans. Their innovative approaches, backed by compassion, make a lasting impact, ensuring that those who have served our nation receive the care they deserve.
Bridging Healthcare Gaps for Veterans through Locum Tenens Solutions
Beyond words, Medicus is committed to supporting Veterans through tangible actions. As a locum tenens staffing company, we are dedicated to ensuring Veterans have continuous access to top-notch healthcare providers through our government contracts. These contracts enable us to connect qualified physicians and advanced practitioners with healthcare facilities serving Veterans and underserved populations, guaranteeing timely and high-quality care for Veterans nationwide.
The Veterans Health Administration (VHA) comprises over 1,400 facilities nationwide and provides care to approximately 9.1 million Veterans annually. A report released in 2022 revealed that Veterans are experiencing prolonged wait times for appointments. For primary care appointments, wait times averaged 31.8 days. Mental health appointments averaged 34.6 days, and appointments for other specialties within the VHA averaged 42.5 days.
To address heightened wait times and meet Veterans demands for care, implementing innovative staffing solutions such as locum tenens during periods of staffing shortages or increased patient volumes proves essential. This approach can provide immediate relief to overwhelmed or understaffed facilities. Locum tenens physicians and advanced practitioners offer a flexible and efficient solution, not only reducing burnout among existing healthcare staff in understaffed facilities but also expanding access to care for Veterans. Locum tenens helps distribute the workload, promoting a healthier work environment and ensuring timely and comprehensive medical attention.
Hear directly from our Medicus Emergency Medicine Locum Tenens working for the VA:
"I work as a locum ER Physician for the VA. This position has been immensely rewarding, both personally and professionally, as our team directly serves members of the military who have dedicated themselves to our country. We encounter a wide range of medical conditions, collaboratively working to provide the best care for our patients. Some of the benefits include exposure to complex cases, a strong team of like-minded providers with a unified goal of serving our Veterans, exposure to cutting-edge medical equipment, and flexibility with scheduling." - Dr. L, Emergency Medicine Physician.
Locum Tenens Government Jobs
If you are interested in helping expand and provide quality care to our Veterans, please view our open locum tenens government jobs here.
Medicus is proud to partner with the Military Readiness Program, helping ensure that Veterans and active duty service members, including the Reserve and National Guard, have access to health readiness support services nationwide. If you are a family medicine nurse practitioner or physician assistant looking to help support military bases, click here to join the Military Readiness Program Medicus team.
Discover the incredible journey of Dr. J, a dedicated surgeon who served our nation, saving lives on battlefields. Hear his inspiring story and his impactful experiences as a locum below.
Thank you, Veterans!
To all our veterans, both past and present, we thank you. Your service has shaped the course of our nation's history, and your contributions are a testament to the strength and resilience of our nation. We are honored to contribute to the well-being of those who have selflessly served our country, and may you feel the deep appreciation that our community holds for your service.